B Corp Services & Consultancy
Your path to B Corp-Certification
More and more companies are getting B Corp-certified and are committed to environmental sustainability and social responsibility. The basis for the certification process is the B Impact Assessment. It provides one of the world's leading and widely recognized frameworks in the space.
I support companies – with and without certification goal – with the following B Corp services:
Holistic B Corp Consulting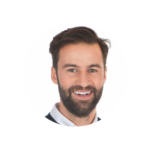 "For us, becoming a Certified B Corp was a management decision. The team didn't know too much about B Corp. With Karry, we could educate our team and she inspired us to explore the synergies from working together with other B Corps. Karry's presentation was very well received by our team. Thanks a million!"
Florian Kiener, Founder Happybrush
Workshops & Trainings
In my workshops and trainings, I introduce organizations and their teams to the B Corp philosophy and B Impact Assessment. Workshops are especially valuable in the context of stakeholder management and employee engagement. Workshops are also a great means when it comes to cross-departmental, collaborative decision making.
Read more about my best practice workshops below.
Sparring
For companies going through the B Impact Assessment on their own terms but encounter difficulties or questions along the way, I provide advice and guidance. Whether it concerns specific questions, best practices or the wish to schedule a Jour Fixe for targeted progress, I am available as a sparring partner to project managers and teams.
€ 180 per sparring session (up to 75 min, incl. preparation), excl. VAT. Please request a discount if you are a startup or a company with an impact business model.
Holistic B Corp Consulting
For companies that want to make the path to B Corp certification as effective as possible and benefit from the knowledge, experience, and best practices of other B Corps, I offer holistic consulting together with another experienced B Corp expert.
From € 13.900, excl. VAT.
Do you have questions about the services or an individual inquiry? Please feel free to schedule a meeting with me.
Workshop "Team Alignment"
This workshop ensures that the knowledge and commitment around B Corp expands throughout the whole company, beyond the B Corp project team. In this workshop, we will ensure that participants
understand what B Corp means for the company, their team and their daily work
how their work contributes to the B Corp process and the B Impact Assessment
develop ideas for B Corp-oriented measures and activities in respective departments
develop relevant KPIs (optional)
Type: Remote workshop with two certified B Corp consultants
Duration: 4 hours
Price: € 1.600, excl. VAT
Workshop "Strategy Alignment"
In 2 workshop sessions, we ensure that all B Corp-based measures and activities are prioritized along the company's sustainability strategy. Together…
we identify the relevant evaluation criteria for you to prioritize measures correctly
we match BIA goals and measures along the sustainability strategy and
identify aspects with implications for your organization, strategy and culture
we lay the foundation for the roadmap development (roadmap to B Corp certification)
Type: Remote workshop with two certified B Corp consultants
Duration: 2 x 3.5 hours
Price: € 2.400, excl. VAT