B Corp Services & Consultancy
Your path to B Corp-Certification
More and more companies are getting B Corp-certified and are committed to environmental sustainability and social responsibility. The basis for the certification process is the B Impact Assessment. It provides one of the world's leading and widely recognized frameworks in the space.
I support companies – with and without certification goal – with the following B Corp services:
Introduction Presentation
B Impact Assessment Sprint
Introduction
For teams, stakeholders or the entire company I give introductory presentations on B Corp, provide best practices and examples of how other successful B Corps do it. I also ensure to onboard employees into the B Corp Community to make the most of existing resources.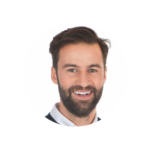 "For us, becoming a Certified B Corp was a management decision. The team didn't know too much about B Corp. With Karry, we could educate our team and she inspired us to explore the synergies from working together with other B Corps. Karry's presentation was very well received by our team. Thanks a million!"
Florian Kiener, Founder Happybrush
Workshops & Trainings
In my workshops and trainings I introduce organizations and their teams to the B Corp philosophy and the B Impact Assessment. Workshops are highly valuable in the context of stakeholder management and employee engagement. Workshops are also a great choice for cross-departmental collaboration and decision-making.
"I was very inspired after our workshop.
Thank you for the exchange and providing the impulse.
There is much uncertainty and little optimism in our industry and
that we have the courage to talk about and initiate change is great."
Ines Reimann, Store Manager H&M Mitte Garten
Sparrings
For companies going through the B Impact Assessment on their own, but encounter ambiguities or questions along the way, I provide instant advice and guidance.

"The B Impact Assessment raised some questions. Karry was quick to assist us here, providing helpful resources and tips on how to use the tool. This allowed us to obtain a few more points, and we were well prepared to submit the assessment."

Malte Sudendorf, Co-Founder St. Oberholz Consulting GmbH
B Impact Assessment Sprint in 2 Days
For companies that want to know assess their status quo and go through the B Corp certification process as effectively as possible, I offer a collaborative sprint. In 2 days you will have completed the B Impact Assessment and hold a roadmap of actions that will get you to the finish line. The sprint includes a checklist to prepare documents and information.
Do you have questions about the services or an individual request? Feel free to schedule a free call with me.